Before understanding what is WINK you need to understand what is WINK technology and why it is built for. WINK is a popular gaming platform. Wink is a blockchain network used to make games with decentralized applications called (DApps). Wink Platform is totally based on TRON technology. It provides valuable tools to game developers to develop decentralized games keeping everything transparent to users.
What is WIN (WINkLink) Coin?
WIN (WINK) is a Token like Ripple, Ethereum, Polygon (Matic), etc. tokens in the cryptocurrency market. WIN is a TRC20 token issued on the TRON network, which is used in multiple scenarios.
WIN (WINkLink) Technology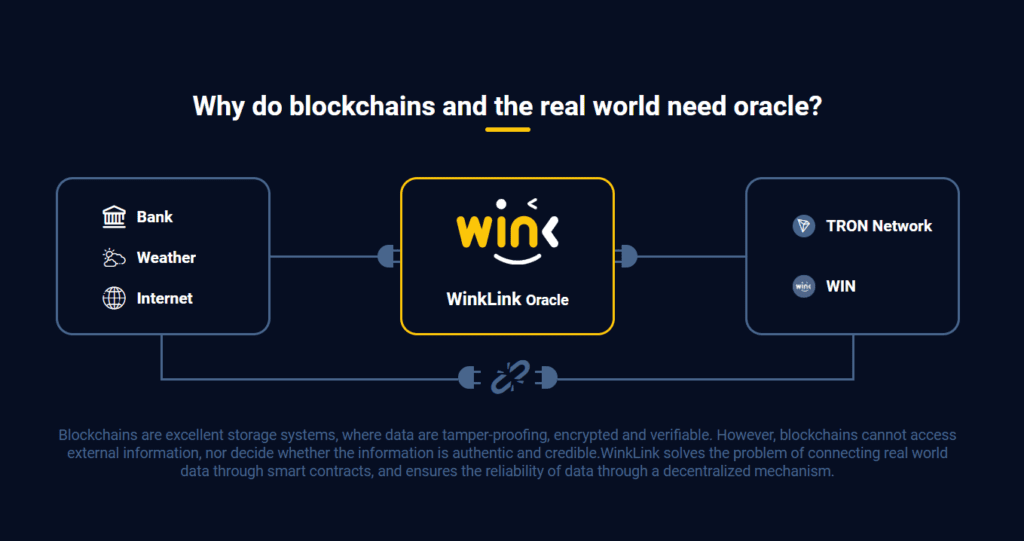 WINK is based on TRON technology. It is the best Oracle in the TRON ecosystem. According to the Wink organization, Blockchains are excellent storage systems. The data in blockchains are temper-proofing, verifiable, and encrypted. Blockchains cannot access the external information, nor decide whether the information is authentic and credible. WinkLink connects the real world through smart contracts and ensures the reliability of data by using a decentralized mechanism.
WIN (WINkLink) Use Cases
Node Incentives: WinkLink nodes receive WIN tokens as rewards for providing trusted data to the platform.
Network Payments: The developers of Wink request trusted data by paying WIN to the WinkLink nodes.
Governance: The WIN coin holders can get involved in community governance and decide the future of this coin.
Market Cap and Supply of WIN (WINkLink)
| | |
| --- | --- |
| Coin Name | WIN (Wink) |
| Network Name | WINkLink |
| Market Cap | $298,627,050 (On 1st July 2021) |
| Fully Diluted Market Cap | $396,511,949 (On 1st July 2021) |
| 24 h Volume | $69,492,961 (On 1st July 2021) |
| Circulating Supply | 766.30B WIN (On 1st July 2021) |
| Wink Price | $0.0003901 (On 1st July 2021) |
| Contracts | TLa2f6VPqDgRE67v1736s7bJ8Ray5wYjU7 |
| WINkLink Whitepaper | https://winklink.org/WinkLink%20white%20paper.pdf |
Wink Coin Price Prediction 2021, 2025, 2030
After the launch of the WIN coin, its price was bearish. Its current rank in Coinmarketcap is #122. Its price suddenly highs and downs. The all-time high price of this coin was $0.002717. On 30 June 2021, there were 13 events of WIN and there were chances of getting higher positions of this coin. People were predicting the price will go up to 10 -15 times from the current price. But now there is no news about any event on the Wink Twitter handle.
But according to the market situation and the power of TRON technology we can say its price will go up and it will give benefits to its investors. According to the market, our price prediction of WIN is it will go between $0.05 to $0.13 USD in the next few years.
How to Buy WIN (WINkLink) Coin?
WIN coin is already listed in all major crypto exchanges including Binance, WazirX, CoinDCX, Bitmart, CoinSwitch, etc. in different pairs including WIN/USDT, WIN/INR, WIN/WRX, WIN/BNB, etc. You can buy WIN coins at any exchange.
Is it the Right Time to Buy WIN Coin?
On 1 July 2021, the crypto market is facing downs in prices of all cryptocurrencies and the price of WIN coin is around $0.0003909. Which is almost half of its normal price. This is a good time to invest in WIN coin to get long-term benefits.
Related Articles:
I am Pawan Kashyap currently living in Amritsar. I always try to grab new things from the cryptocurrency market. From my observations and trends in the market, I always try to provide the best and accurate information in the form of articles from this blog. Follow us on Facebook, Instagram, and Twitter to join us.