After the success of Dogecoin, a new coin BabyDoge coin is getting popularity in the cryptocurrency market after the tweet of Elon Musk. This coin is also based on the popular dog breed Shiba. On the image of this coin, you can see the picture of a dog. The price of this coin was boosted after the tweet of Elon Musk.
What is the BabyDoge coin?
According to the BabyDoge coin website, this coin is the child of the famous meme coin Dogecoin. This coin has learned a few tricks and lessons from his father dogecoin. The speed of transactions and adorableness have improved in BabyDoge coin. BabyDoge coin is Hyper-deflationary with an integrated smart staking system that provides rewards to its holders. If you are doing transactions in baby dogecoin for each transaction new BabyDoge coins will be added to your wallet. The motive of this coin is "Simply love, Pet and watch your BabyDoge coin grow".
What are the Benefits of Using BabyDoge Coin?
BabyDoge coin provides many benefits to its holders. If you hold or transact BabyDoge coin you will get a 5% fee from BabyDoge Network for every transaction on the network. You will see your BabyDoge in your wallet.
Features of BabyDoge Coin
The BabyDoge coin is very cute but with a lot of BITE! BabyDoge is a deflationary coin designed to become more scarce over time. The features of the BabyDoge coin are as follows:
Auto & Manual Burns
Rewards Holding
Locked Liquidity
Charity Wallet
Auto & Manual Burns: The BabyDoge coin community has burned 29%+ of the supply. It means from the 5% of redistribution 29% will be distributed to the dead wallet. The community burns coins with every new transaction.
Rewards Holding: BabyDoge provides rewards for every token holder. The 5% tokens of each transaction are redistributed to token holders. It means you will earn more coins by just holding coins in your wallet.
Locked Liquidity: To maintain liquidity majority of Locked Liquidity tokens are burned so there is always Locked Liquidity.
Charity Wallet: The BabyDoge community has a designated charity wallet that receives redistributions to support their charity partners. They have done their first donation to Paws with a cause that works with 45 different shelters in the United States.
Related Article: SHIBA Inu Vs Dogecoin: Who Will Cross The $1 Mark?
Is Elon Musk Supporting BabyDoge coin?
We are not sure about the support of Elon Musk to BabyDoge coin. But according to reports, BabyDoge is also favorite of the crypto enthusiast and Tesla CEO Elon Musk. On July 1 he has tweeted something about this coin on his Twitter handle. The tweet is embedded below, this shows Elon is supporting the BabyDoge coin and trying to promote it in his tweet. After that tweet, the coin jumps 95% in a single day.
BabyDoge Coin Graph Chart of 3 July 2021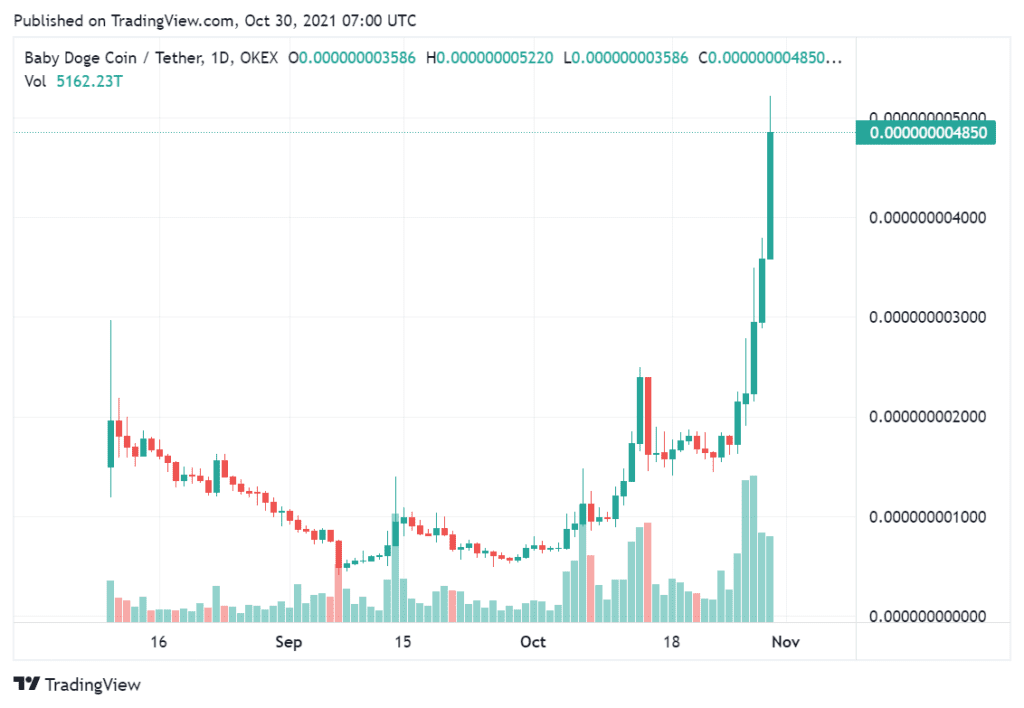 Where We Can Buy the BabyDoge Coin?
At the time of writing this post, the BabyDoge coin is not available on popular exchanges like Binance, WazirX, CoinDCX, etc. But this coin is listed on Coinmarketcap, CoinGecko, BscScan, and PancakeSwap. If you are willing to purchase the BabyDoge coin then you can purchase it on Pancake Swap and DODO.
I am Pawan Kashyap currently living in Amritsar. I always try to grab new things from the cryptocurrency market. From my observations and trends in the market, I always try to provide the best and accurate information in the form of articles from this blog. Follow us on Facebook, Instagram, and Twitter to join us.