US-based cryptocurrency exchange Coinbase is the world's most trusted cryptocurrency exchange, with over 89 million users across 100+ countries worldwide. Now Coinbase started a cryptocurrency trading facility in India. Indian Coinbase users can easily buy cryptocurrencies using the UPI method. Unified Payments Interface (UPI) is widely accepted and more than 60% of transactions are done through it.
Coinbase is a simple, safe way to buy, store, trade, and sell cryptocurrencies. Whether you are a beginner or a professional crypto trader Coinbase is for you to build your portfolio, earn yield, stay up-to-date on crypto news and navigate the crypto market with ease.
What are Supported Crypto Assets on Coinbase?
Currently, Coinbase is supporting Bitcoin, Ethereum, BitcoinCash, Solana, Tether, USD Coin, Shiba Inu, Dogecoin, Steller, Mina, Litecoin, and many more on its platform. Users can easily buy, sell, send, receive and convert their assets on this web or app platform.
Smart Tools Available On Coinbase App
Portfolio Management: Easily manage your portfolio using Coinbase's automatic buying and price alerts feature.
Crypto Tracker & Dashboard: Coinbase has a clear and user-friendly dashboard that helps you see crypto prices and available assets value.
Bitcoin Ticker: Helps in tracking the latest trends in Bitcoin. Check the crypto assets which has moved the most in the past 24 hours.
Crypto Watchlist: Easily create your watchlist to see the prices of your favorite crypto assets.
Crypto News: Read the latest and up-to-date news articles related to crypto.
How To Buy Crypto Using UPI On Coinbase?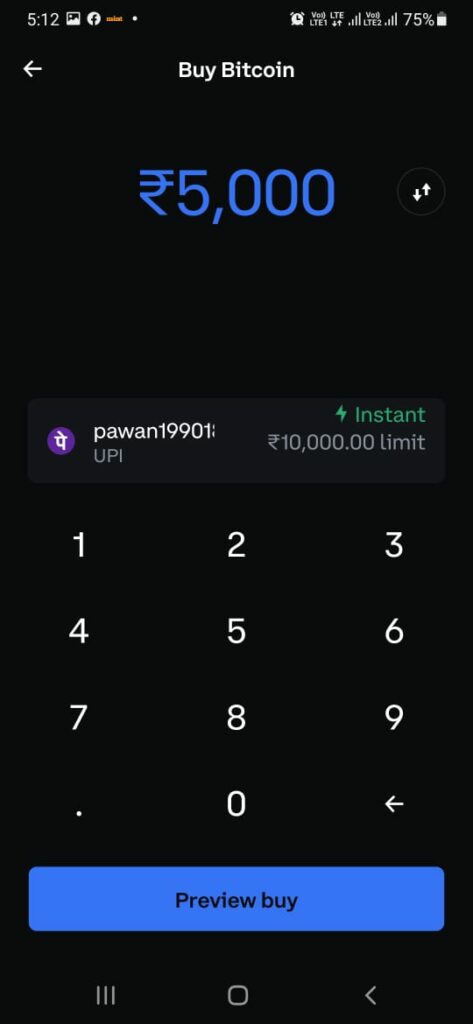 Follow the below steps to start trading in crypto on Coinbase using the UPI payment method:
Download and Install Coinbase App on your smartphone.
Create an account by filling in your basic details like Name, Email Id, phone number, etc.
Then Add your UPI Id and along with your Pan Card Number to start buying with UPI.
Then add your bank account to receive your funds after selling.
Now you are ready to buy and sell your crypto assets using UPI on Coinbase.
I am Pawan Kashyap currently living in Amritsar. I always try to grab new things from the cryptocurrency market. From my observations and trends in the market, I always try to provide the best and accurate information in the form of articles from this blog. Follow us on Facebook, Instagram, and Twitter to join us.