Now you can get Dogecoin and Ethereum at your local grocery stores. Yes, it's true. Coinstar has allowed its customers to get Dogecoin Ethereum at any local supermarket store through its Coinstar kiosk.
Coinstar has already allowed its customers to acquire Bitcoin (BTC) through its kiosks since 2019. The company has partnered with Coinme cryptocurrency exchange to provide its kiosk services. On Wednesday the company announced these kiosks can be used to exchange coins for cash and also for Dogecoin, Ethereum, Chainlink, Lumens, and Polygon.
Coinstar CEO Jim Gaherity said in a statement, "Customers have asked us to make other coins available besides Bitcoin on Coinme-enabled Coinstar kiosks". He also said, "We want to make it easy for anyone, regardless of their familiarity with crypto, to get started with digital currencies with cash in their local grocery stores".
How to get Dogecoin and Ethereum Using Coinstar Kiosk?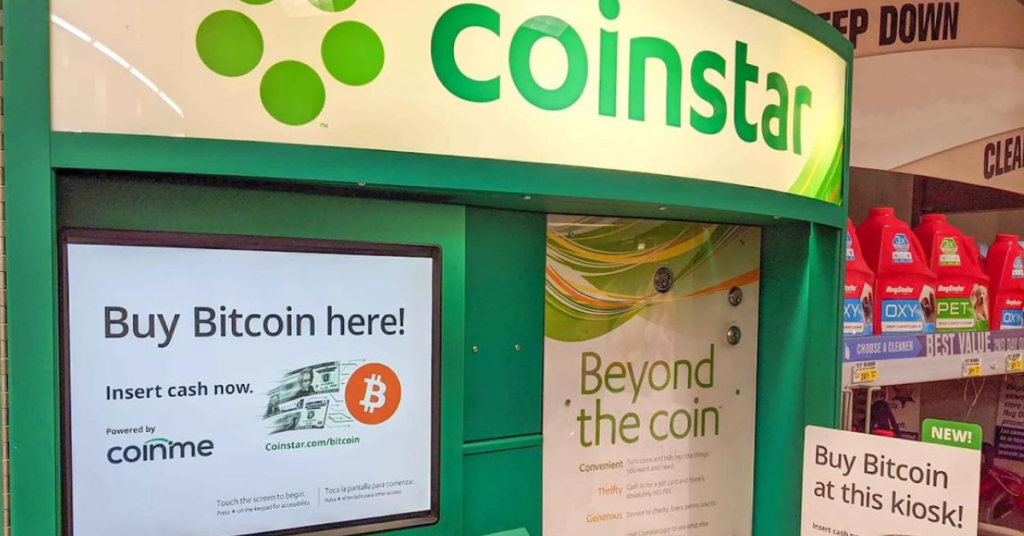 Customers who are interested in getting Dogecoin, Ethereum, and other available cryptos using the Coinstar kiosk can use special options on the machine. After selecting the options customers needs to enter a phone number and then insert the amount of cash they would like to convert with crypto. Then select their preferred crypto and choose enter. Then they will get a voucher with redeem code. This code can be redeemed via the Coinme App or website both.
If you don't have a Coinme account then you can create it with a few steps. You need to enter your KYC details for verification. In KYC you need to take a selfie and upload ID proof and that's it. The best thing is Coinme wallet is easy to create and use immediately after verification of KYC.
Related Story: 200 ATMs Across El Salvador: Further Progress In Making Bitcoin Legal Tender
Why Coinstar Kiosk is Best to Buy Crypto With Cash?
Sometimes buying crypto becomes complicated for those who are not much aware of the technology. To save time and make it easier Coinstar kiosks can be more helpful for them. If we talk about only the United States then there are more than 34,000 Bitcoin ATMs available in the country offering crypto services.
Now Coinstar and Coinme together are claiming that they have enabled better Kiosks as compared to Bitcoin ATMs because they are charging lower fees and they don't require more details of their users.
What do you think about these Coinstar Kiosks, will they succeed or not? You can tell your thoughts in the comments below.
I am Pawan Kashyap currently living in Amritsar. I always try to grab new things from the cryptocurrency market. From my observations and trends in the market, I always try to provide the best and accurate information in the form of articles from this blog. Follow us on Facebook, Instagram, and Twitter to join us.