Last week news came from the all-news channels which created huge panic among Indian cryptocurrency investors. The news was about to apply a blanket ban on all cryptocurrencies including Bitcoin. After hearing the news from top news channels the people started selling their crypto's in fear of ban and the prices of all virtual currencies fall up to 50% among Indian exchanges.
But after one day the news channels again clarified and said there may be some restrictions on all private cryptocurrencies and government will introduce its official digital currency issued by the Reserve Bank of India.
What is Cryptocurrency and Regulation of Official Digital Currency Bill 2021?
The government is going to introduce the Cryptocurrency and Regulation of Official Digital Currency Bill 2021 in this parliament's winter session that started today. The government has listed 26 bills that will be introduced in this Parliament's winter session and the Cryptocurrency bill is listed in 10th position in the official announcement of the central government.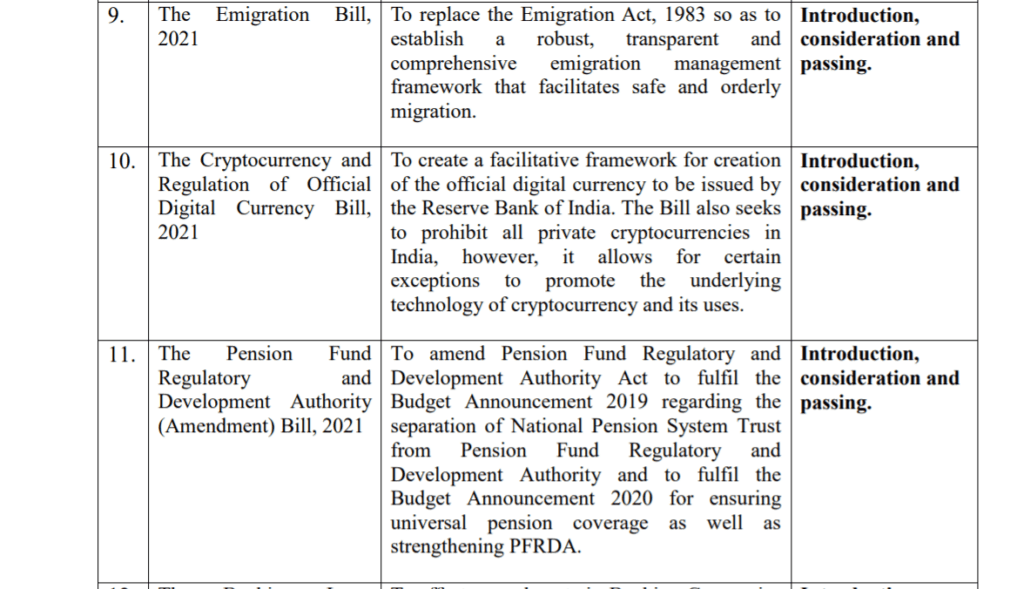 The cryptocurrency industry is waiting for a positive response from the government which may allow people to invest in cryptocurrencies with few restrictions. All things is revolving around the term private currencies. It is not clear how the government has seen the term private cryptocurrencies. The Central Bank's Digital Currency (CBDC) issued by the Reserve Bank of India is public currency and all other currencies which are not issued by the government are private currencies.
The government has some concerns with the usage of cryptocurrencies and to protect the money laundering and terror funding the government wants to apply some restrictions. All the doubts will be cleared after the introduction of the Cryptocurrency Bill 2021.
I am Pawan Kashyap currently living in Amritsar. I always try to grab new things from the cryptocurrency market. From my observations and trends in the market, I always try to provide the best and accurate information in the form of articles from this blog. Follow us on Facebook, Instagram, and Twitter to join us.