Hello friends I am Pawan Kashyap! Today we are going to discuss the Indian Cryptocurrency exchange CoinDCX.
Cryptocurrency is getting boom in India. There are many cryptocurrency exchanges including Zebpay, WazirX, CoinSwitch, etc. are already working in the Indian crypto market. These cryptocurrency exchanges provide different facilities for trading through their website or mobile applications.
If you are a beginner in the cryptocurrency market and want to start trading at a trusted and secure crypto exchange then this article is for you. Here you will learn how to invest in Bitcoin, Ethereum, and other Altcoins. So keep reading this post.
What is CoinDCX?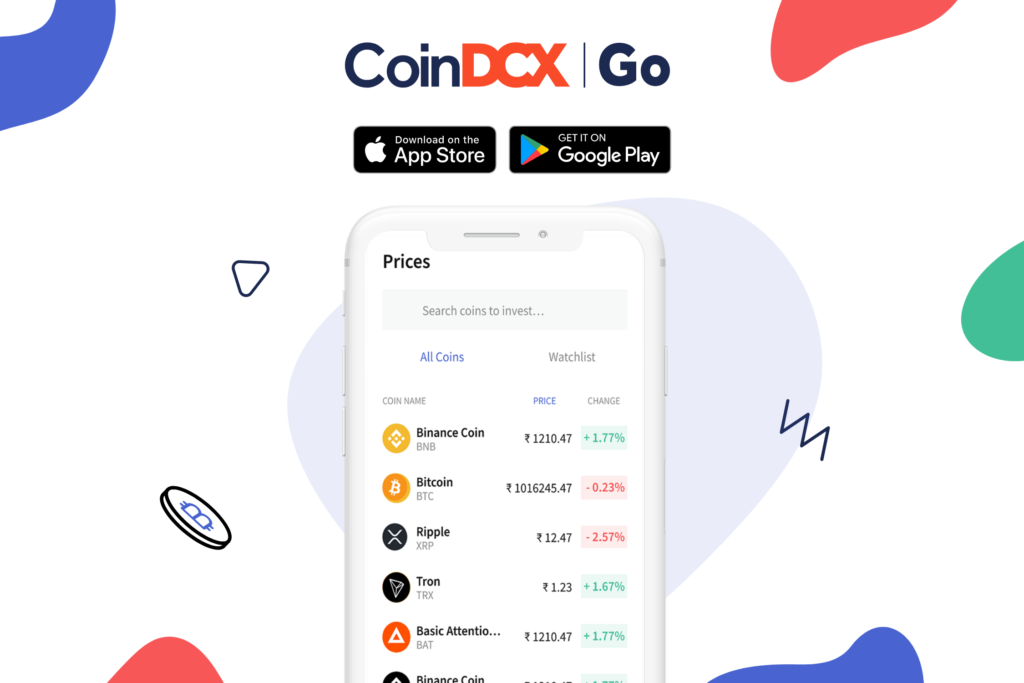 CoinDCX is India's largest and safest cryptocurrency exchange that was launched on 7 April 2018 and is headquartered in Mumbai, Maharashtra, India. Sumit Gupta is a current co-founder and chief executive officer of CoinDCX. Here you can buy Bitcoin, Ethereum, and other Altcoins using your Indian rupees. CoinDCX is India's first cryptocurrency exchange to achieve unicorn status amid regulatory uncertainty over crypto assets. They have raised $90 million in a Series C funding round at a valuation of $1.1 billion.
What are the benefits of Using CoinDCX Cryptocurrency Exchange?
CoinDCX is the world's most versatile crypto exchange. This platform is built with cutting-edge technology and crafted with care. They provide the most trustworthy trading environment to their users. The main benefits of CoinDCX are as follows:
1. Simple to Use
CoinDCX provides a fast, secure, and safe trading platform to make trading effortless. The CoinDCX web version is awesome and it provides a clean User Interface with all necessary data and options in its trading view. They have two Applications for Android and iOS users which were built to focus on beginner and professional traders. CoinDCX provides two apps one is CoinSCX Go for beginner traders and the other is CoinDCX for professional traders.
2. Margin Centre
At CoinDCX you can Buy and Sell Bitcoin, Ethereum, and 250+ Altcoins with up to 6X leverage with massive liquidity from the world's leading exchanges.
3. Security First
CoinDCX's main priority is the security of its customers and their assets. For keeping this in mind CoinDCX is equipped with multi-signature authentication, cold wallet storage, and DDoS protection to ensure the highest security.
4. Limitless Trading
CoinDCX promises a limitless trading facility to its customers. With a near-limitless order book, you need not worry about any limitations while trading on this platform.
How to Setup a Trading Account on CoinDCX Exchange?
If you want to start your trading journey with CoinDCX then you first need to set up a CoinDCX trading account. The whole process of setup is as follows:
CoinDCX provides a new registration facility from its official website and its mobile applications (CoinDCX and CoinDCX Go). You can register anywhere according to your choice.
To register from a website or application you need to enter your basic details including your full name, email id, phone number, and other basic details.
To get successfully register on CoinDCX you need to verify KYC details using your PAN Card and Aadhaar Card.
After successful verification of KYC details you need to add a bank account to deposit and withdraw funds in your account. CoinDCX provides UPI, Bank Transfers, and Wallet transfers facility to deposit funds in the CoinDCX wallet.
After successful verification of KYC details and bank account details, you are ready to start trading on CoinDCX.
Cryptocurrency Trading is very simple and to earn profits you need to invest in dips and hold till pumps. If you need any other help or have any doubt about CoinDCX you can ask me in the comments below. We will solve your doubts with high priority.
I am Pawan Kashyap currently living in Amritsar. I always try to grab new things from the cryptocurrency market. From my observations and trends in the market, I always try to provide the best and accurate information in the form of articles from this blog. Follow us on Facebook, Instagram, and Twitter to join us.