In the crypto world, many currencies and crypto networks have launched. But today we are going to discuss Polygon which is also called MATIC. Initially, this token was launched as MATIC after its rebranded its name changed to Polygon. Everyone can purchase and sell this token on all major cryptocurrency exchanges. But before trading in this token we should need to know some basic details about this token.
Here in this article, I will try to answer your basic questions about this Polygon (MATIC).
So Let's Move On.
What is Polygon (MATIC)?
In simple words, MATIC Network also called Polygon is a scaling solution and its main aim is to address the scalability issues seen in Ethereum. Ethereum network is in high demand on different popular decentralized platforms such as Decentraland, CryptoKitties, Gods Unchained, and much more. Decentralized finance (DeFi) apps such as Compound, Maker, SNX are also using the Ethereum Network.
The problem with Ethereum Network is it can only process on average 14 transactions per second at a time. And the apps which are using this network have to compete for the limited resources that Ethereum provides.
Here Matic networks provide the solution to this problem by introducing a second layer scaling solution. Polygon provides a solution by providing these computations and transactions to the side chains (Called Off-Chain computation). The second layer chain is assured by the Plasma framework and Proof of Stake (PoS) by the MATIC validators.
Polygon (MATIC) Network Architecture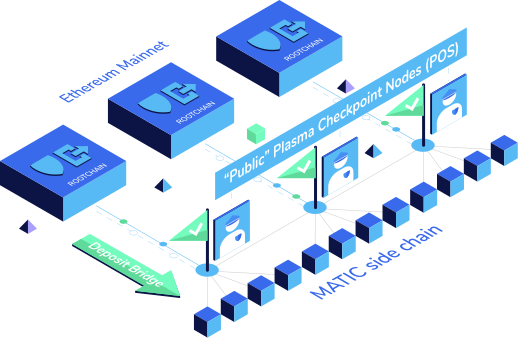 MATIC network solves the problem by creating a decentralized platform using an adapted version of the Plasma framework. This framework provides a solution for faster and extremely low-cost transactions as compared to Ethereum transactions.
MATIC Network system ensures its liveliness by using PoS checkpoints which are pushed to the Ethereum mainchain. It enables a single sidechain to theoretically achieve 2 16 transactions per block.
Main Features Of Polygon (MATIC):
Scalability
High Throughput
User Experience
Security
Asset Interoperability
One-Stop DeFi Platform
What is the Polygon (MATIC) Token?
MATIC token is simply a virtual currency that is issued on the MATIC Network. This token can be used for validators to participate in the network via Proof of Stake (PoS) in order to secure the chain. On the MATIC network, the transaction fees are also paid by using these tokens.
What is the Price of a Polygon (MATIC) Token?
For the first time when this token was launched on Binance then the price of this token was $0.00263 USD. Today we can see many fluctuations in the price of this token. According to Coinmarketcap current price of MATIC is $1.45.
Polygon (MATIC) Token Price Prediction
Polygon which is also called MATIC was launched at an initial price of $0.00263 USD on Binance. But in a short time, its popularity started increasing. There are many Defi Apps that work on MATIC Network, some of these apps are QuickSwap, Aave, Curve Finance, Adamant Finance, Auto Farm, Beefy Finance, 1INCH, SushiSwap, etc. In December 2021 Reddit Co-Founder Polygon also launched $200 million for Social Media, gaming, and Web 3.0 projects. On Coinmarketcap current market rank is #16. In the future Polygon is also planning to start major projects and collaborate with other brands. We can see a huge jump in the price of this token.
Where can we Buy Polygon (MATIC) Token?
You can use MATIC token for trade-in crypto to earn a huge profit. MATIC token is available on Zebpay, Binance, Yobit, and many other platforms. In India, you can easily buy this token from the Zebpay app.
I hope now all your basic doubts about MATIC token and Network have cleared in this article. If you have any questions and suggestions you can ask in the comments below.
I am Pawan Kashyap currently living in Amritsar. I always try to grab new things from the cryptocurrency market. From my observations and trends in the market, I always try to provide the best and accurate information in the form of articles from this blog. Follow us on Facebook, Instagram, and Twitter to join us.