BitMart Exchange Overview
BitMart is a cryptocurrency exchange platform from the Cayman Islands. It was launched for public usage in 2018. Crypto traders can buy and sell bitcoin and other altcoins on this exchange.
Currently, BitMart is serving more than 5 million users worldwide. They guarantee fast, secure, and professional crypto trading services on their platform.
Today in this article we are going to provide a review of trading options, available cryptos, payment options, and trading fees of BitMart.
We have divided the review in following parts:
BitMart Desktop and Mobile Support
BitMart Trading
BitMart Lending
BitMart Staking
BitMart Futures
BitMart Deposit Methods
BitMart Trading Fees
BitMart Funds Security
1. BitMart Desktop and Mobile Support
BitMart is the leading cryptocurrency trading exchange, providing facilities for crypto trading across the globe. If we talk about the Desktop Trading view of BitMart it has easy to use User Interface with a simple trading view chart with different options along with simple Buy and Sell buttons. The customers can easily understand the usage and working of the desktop trading view of BitMart. Below is a screenshot of the Desktop trading view of BitMart.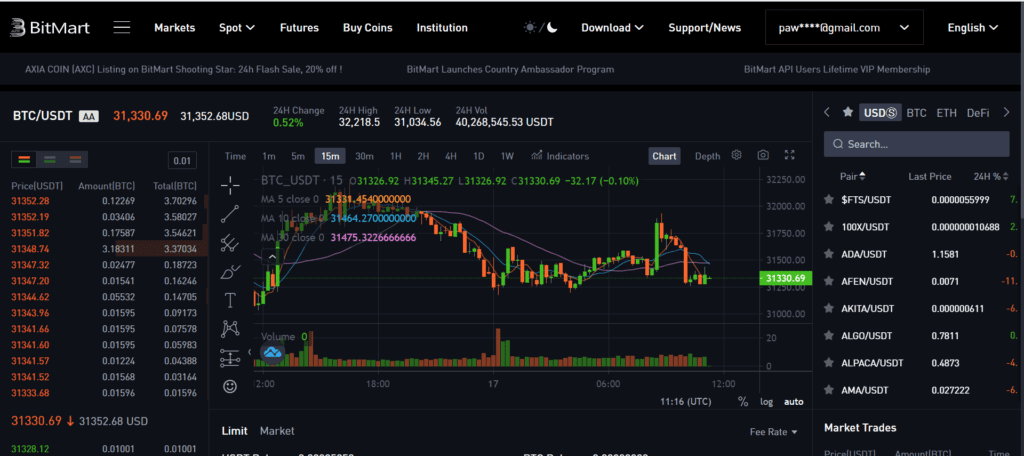 If we talk about the Mobile support of BitMart, they also have their mobile applications for Android users and iOS apps for iPhone users. The mobile view of BitMart is also awesome with all necessary trading options. Below is the screenshot of the Mobile Trading view of BitMart.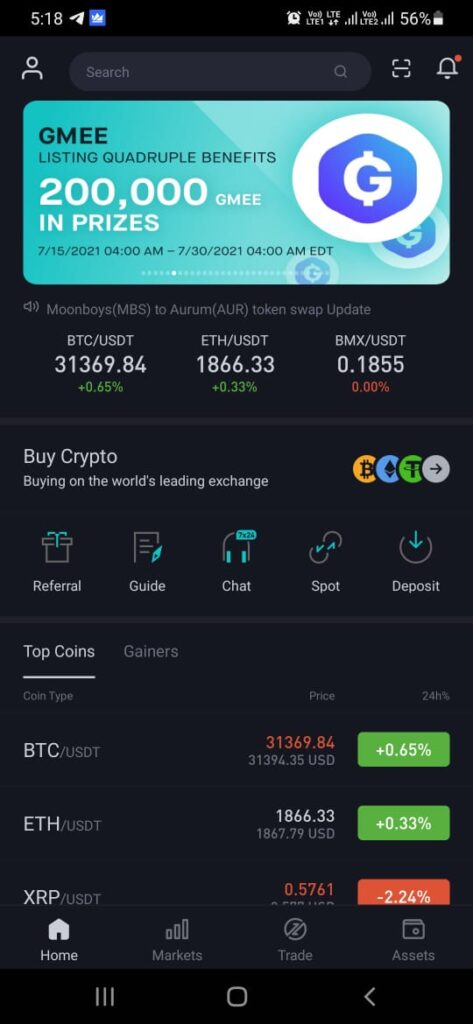 2. BitMart Trading
The trading on BitMart is very simple, there are many altcoins are available for trading in different trading pairs with USDT, BTC, ETH. Customers can enjoy trading in any altcoin listed on BitMart. The trading view of BitMart is very simple and easy to use.
3. BitMart Lending
BitMart has an interesting feature called Lending for its customers. Lending is a feature in which customers can earn coins by locking their cryptos for some time. There are different Interest rates are available for different altcoins. Customers have to lock their cryptos for some time and after the maturity, the principal and interest will be unlocked and distributed into the customer's wallet on the redemption date.
4. BitMart Staking
Staking is another process in which customers have to hold their funds in their wallets to support the operations of a blockchain network. For this process of holding customers will get rewards according to the amount of their holding coins. BitMart Staking is available for five different cryptos: Bitcoin, ZOE, ARTEX, Qtum, and Dash.
5. BitMart Futures
In 2020 BitMart has launched its Futures trading option for users. They provided a unique feature called "perpetual swaps" on their platform. Perpetual swaps refer to a kind of derivatives similar to a traditional futures contract. The main benefit of perpetual swaps is it provides high leverage.
6. BitMart Deposit Methods
On BitMart they provide a facility to buy crypto with your debit and credit cards (Visa and MasterCard). This method is mostly beneficial for newer traders. Many exchanges do not offer fiat currencies deposits. You can easily buy popular tokens such as BTC, ETH, EOS, XRP with your fiat currencies including USD, EUR, CNY, etc.
7. BitMart Trading Fees
Trading fees is very important for every trader, Trading fees are that which the exchange charges for trading on their platform. All exchange takes trading fees in the form of some percentage usually called makers fees and takers fees. But BitMart doesn't distinguish between takers and makers. They charge 0.25 whether it is a taker or maker. We can also say it flat fees. It reduces based on the trading volume and your holdings of BitMart's native token BMX.
BitMart also charges a small withdrawal fee amounting to 0.0005 BTC when you withdraw BTC from your wallet. This fee is also below the industry average. In the case of trading and withdrawal fees, BitMart's charges are very low as compared to other exchanges.
8. BitMart Funds Security
BitMart provides an advanced risk control system on their platform. It offers Hybrid hot/cold wallet systems and multi-signature technologies to protect your cryptos. BitMart is 100% secure for trading and digital asset management.
Bottom Line
Overall we BitMart is the best platform for professional traders. It provides all features of trading and asset security on its platform with minimum charges. You can start investing in BitMart by creating your account here.
I am Pawan Kashyap currently living in Amritsar. I always try to grab new things from the cryptocurrency market. From my observations and trends in the market, I always try to provide the best and accurate information in the form of articles from this blog. Follow us on Facebook, Instagram, and Twitter to join us.