Today many people are investing in cryptocurrencies and NFTs on various crypto exchanges. A large number of cryptocurrency wallets including Binance, Coinbase, WazirX, Zebpay, Robinhood, Yobit, etc. are already available in the market.
All exchanges and their wallets promise high-level security and safety of the funds of users. But the crypto market is also full of news of frauds and hacks in which investors have lost their hard-earned money.
Today we are going to discuss the leading mobile, desktop, and hardware wallet provider Exodus. Exodus provides a guarantee of advanced security for your crypto assets on their platform. So let's discuss more this crypto wallet.
What is Exodus Wallet?
Exodus is a leading mobile, desktop, and hardware cryptocurrency wallet provider. The exodus that is a new world of Crypto Apps gives more control to its users to manage their wealth. This wallet facilitates its users to send, receive & exchange Bitcoin, Ethereum, Dogecoin, and more than 100+ cryptocurrencies with ease on the world's leading Desktop, Mobile, and Hardware crypto wallets.
Who are the Founders of Exodus Wallet?
Exodus wallet was founded by JP Richardson and Daniel Castagnoli in 2015. JP Richardson is a blockchain programmer and he is behind all the technical magic of this platform. He has published more than 200 open source libraries and has written code in use by Bitcoin and cryptocurrency software on the web today.
Daniel Castagnoli is a UI designer who has designed smooth animations and designed of Exodus platform. He is a master of emotional and attractive design and has worked for Apple, BMW, Disney, Louis Vuitton, and Nike to design their experiences.
Related Article: Ledger Nano X: Secure Your Crypto's With Bluetooth-Enabled Hardware Wallet
What are the Main Products of Exodus?
The main products of Exodus are listed below:
Desktop Wallet: Now easily exchange and transfer digital assets on your Desktop with Exodus Desktop wallet.
Mobile Wallet: Full control of your wealth anywhere with Exodus mobile wallet.
Trezor Hardware Wallet: Advanced security made easy with Trezor Hardware wallet.
Exodus Crypto Apps: Do more with your wallet, send receive and exchange easily with Exodus Crypto Apps.
What are Supported Cryptocurrencies On Exodus Wallet?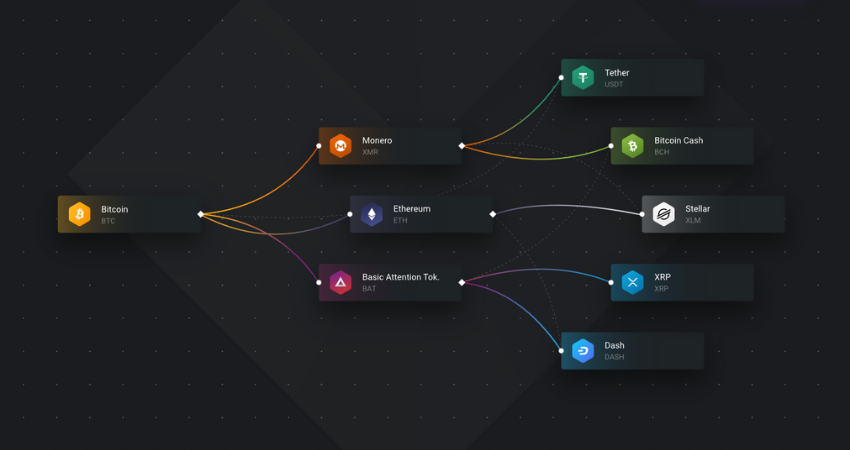 Currently, Exodus supports more than 150 cryptocurrencies including all major cryptocurrencies like Bitcoin (BTC), Ethereum (ETH), Tether USD (USDT), Binance Coin (BNB), USD Coin (USDC), XRP (XRP), Terra (LUNA), Cardano (ADA), Solana (SOL), etc.
What are the Benefits of Using Exodus Wallets?
Exodus wallets are fast, secure, and provide an elegant user experience to their users. The attractive benefits and main reason to use this wallet are:
1. Keep Your Data Private
To provide privacy and security Exodus has encrypted private keys and transaction data on your device and is available for your eyes only. All your account data will remain private there is no need for registration or account setup.
2. Hardware Wallet (Trezor)
Exodus also provides a Hardware wallet with next-level security. You can easily manage and exchange your crypto assets in Exodus by using the Trezor Hardware wallet.
3. One-Click Easy
Exodus wallets are designed to keep it more simple and secure. Even novice users who do not use any exchange before can easily use Exodus wallets. Exodus hides all complex details while assets are exchanged behind the scenes in a few seconds. You can easily exchange Bitcoin for another asset present on Exodus.
4. 24/7 Human Support
Another reason to use this wallet is its 24/7 Human support. Exodus never leaves you out on your own by providing an online help desk and 24/7 human customer support to solve all your queries.
5. Friendly and Trusted
Exodus has made it fun and easy to learn and use crypto assets. They have removed all confusing steps in your crypto journey. They made it more simple to control your wealth with ease – and have fun doing it!
How Setup Exodus Crypto Wallet?
Exodus crypto wallet is very easy to set up, there is no requirement of account setup or registration. Just install Exodus crypto wallet from Google Play Store or Apple App Store for Android and iOS users and start using your wallet.
I am Pawan Kashyap currently living in Amritsar. I always try to grab new things from the cryptocurrency market. From my observations and trends in the market, I always try to provide the best and accurate information in the form of articles from this blog. Follow us on Facebook, Instagram, and Twitter to join us.