Cryptocurrencies like Bitcoin, Ethereum, Ripple, Dogecoin, Polygon have made many millionaires and billionaires in this world. Many people are trying to change their life with cryptocurrencies. Many cryptocurrency exchanges like Binance, Coinbase, WazirX, CoinDCX, Bitbns, Bitmart, etc. have made crypto trading and investment easier for their customers, by providing easy trading facilities.
But investment in cryptocurrencies should be safe and secure. All exchanges promise their customers to provide maximum security. But we have seen many cases of cryptocurrency frauds, where investors claim their crypto assets were hacked from exchanges, and they lost all their money. There are a number of cryptocurrency scams are being reported every month. Many hackers are continuously trying to steal the crypto assets of users by different illegal ways.
When you own any cryptocurrency, what you really own is a private key that gives you access to your crypto coins. To keep your crypto safe you need to keep this key completely safe. Ledger is working very hard to provide your secure gateway to all your crypto needs. Today we are going to introduce you to the Ledger hardware wallet, where you can save your crypto assets without any worry.
What is Ledger Nano X?
To provide safety Ledger has introduced a Bluetooth-enabled Hardware Cryptocurrency Wallet 'Ledger Nano X'. This hardware wallet is built around a new hardware architecture to take advantage of versatile security Operating System BOLOS.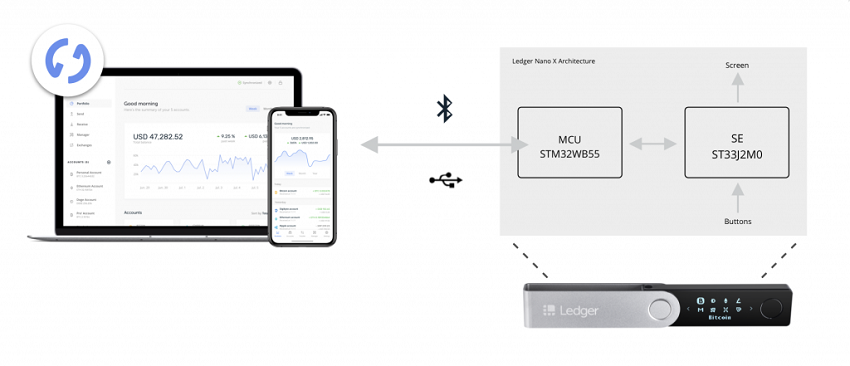 Ledger Nano X hardware wallet provides Bluetooth Low Energy (BLE) connectivity to be used with Android or iOS devices without the need for a cable.
In simple words, Ledger Nano X provides a facility to store your private keys in a Bluetooth-enabled hardware wallet. You can use this hardware to verify transactions securely. Your cryptocurrencies will remain secure with the Ledger Nano X hardware wallet, you can manage and grow it with the Ledger Live app on your Android or iOS smartphones.
Benefits of Using Ledger Nano X Hardware Cryptocurrency Wallet:
Ledger Nano X Hardware Wallet provides safety and security to your private keys. The main benefits of this device are as follows:
The Bluetooth-enabled hardware wallet keeps your private key safe and secure.
With Ledger Nano X you can manage 1,800+ crypto coins and tokens.
Up to 100 Apps are already installed in this hardware wallet.
Grow your crypto assets by staking your Tezos, Tron, Cosmos, Algorand, or Polkadot coins directly in Ledger Live App.
How to Buy Ledger Nano X Hardware Wallet?
If you want to buy Ledger Nano X hardware to secure your crypto assets, then you can buy it from the official website of Ledger. You can buy it online and it will deliver to your home across the globe.
I am Pawan Kashyap currently living in Amritsar. I always try to grab new things from the cryptocurrency market. From my observations and trends in the market, I always try to provide the best and accurate information in the form of articles from this blog. Follow us on Facebook, Instagram, and Twitter to join us.