What is Momentum?
MobileBridge Momentum is a marketing automation platform that is based on blockchain technology. It is designed to bring revolution in marketing and loyalty programs. For this, a mechanism is provided to the companies through which they reward their customers with crypto coins (crypto-tokens).
The platform allows the customers to have control over their personal data. Retailers can also launch their own token-based reward programs in order to gain the trust of the customers by rewarding them.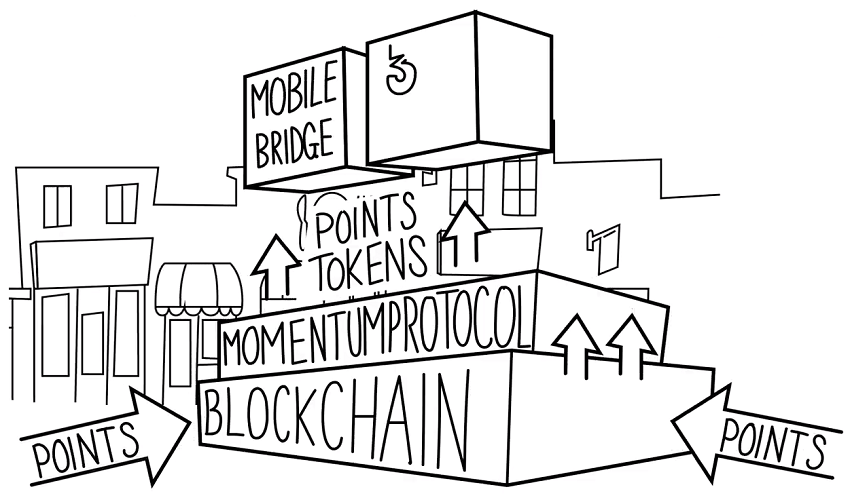 MobileBridge Momentum is the first cryptocurrency-based marketing automation system that has blockchain embedded in its system of operations which acts as a medium for businesses to reward their customers for the attention and support they give to them. This certainly helps business organizations to maintain relationships and loyalty with their customers in a friendly way. The companies can also launch new or convert the existing programs into marketing and rewards programs which is cryptocurrency based on the MobileBridge Momentum Platform.
Features of Momentum
Momentum offers certain features to their customers that include:
1. Involvement of customers
The involvement of customers is not only limited to purchase but they are also involved in promoting the brands and products which they love.
2. Enjoy real value
Rewards can be exchanged between loyalty programs or into Momentum tokens after being collected in a single wallet.
3. No points wasted
There will be no tokens that will be wasted. Each and every token which is not used can be saved, traded, gifted, or even donated.
How Does Momentum Token Work?
The Momentum token is the official cryptocurrency of the MobileBridge Momentum platform.
The primary use of the Momentum token is to acts as a loyalty token which business organizations provide to their customers for their valuable feedback and as their involvement in the business. By taking more valuable data from customers in return for these tokens helps the business industries to understand the need and wants of the market and thereby successfully attract more customers. This will also allow consumers to enjoy their cryptocurrency reward tokens by easily using them or exchanging them into other branded reward tokens. For instance, consumers can exchange tokens to enjoy a pizza that they collected while flying. Companies reward customers with crypto tokens, discounts, etc generally when they purchase something, provide personal data, post reviews, videos,s or blog posts about their products like some video of the company or promote the services and products among their friends.
Companies can target the users with the help of this platform by using comprehensive data such as the location and behavior of customers. This further helps the companies to optimize their offers according to the data collected in order to get a good return on marketing investments. Apart from this, data is fully controlled by the users. It is completely into the user's hands whether they want to sell the product in an exchange with the tokens or want to keep the data with themselves. This is certainly a good idea as users can earn a profit by sharing high-quality personal data with the companies.
Apart from acting as a loyalty token, this cryptocurrency is also used as a currency which is used to buy goods and services on this platform. This can even be exchanged for promotional rewards. The token will never go wasted and will always remain the property of the client.
Use of Momentum Token
The Momentum token powers the Momentum platform. There are four different ways in which Momentum tokens can be used:
As a reward and loyalty token: Consumers are rewarded with the tokens for the attention they provide, business, brand advocacy, and data insights.
As a gateway toke: Company branded loyalty rewards can be converted into Momentum tokens which further can be exchanged with other reward tokens or cryptocurrencies.
As a platform payment currency: Momentum Tokens are used to pay by the companies who use the MobileBridge Momentum Platform.
As a cryptocurrency: It is used an encrypted, decentralized digital currency that holds value and allows pear to pear transfer.
Token Distribution among different users
Percentage of token that has been sold is 50%.
Percentage of token for the capital reserve is 33 %.
Percentage of token reserved for long-term retention is 5%.
Percentage of token reserved for third-party launch cost is 5%.
Percentage of token reserved for mobile Bridge team is 3%.
Percentage of token reserved for Bounty Program is 2%.
Percentage of token reserved for advisors is 2%.
Pros of Momentum
Momentum provides benefit to companies and consumers in the following ways:
Self-branded cryptocurrency based marketing reward programs can be used by the companies.
Momentum has gained a better understanding of customer behavior.
Momentum allows the companies to connect with their customers and friends at critical times.
Customers get rewarded with crypto tokens and many other incentives for their purchasing, giving personal data, review posting, clicking likes, etc.
With the help of different apps and augmented reality, consumers are allowed to collect crypto rewards from local stores.
Consumers will be profited from marketing which is affiliated to their needs and they also receive a share of the value which they provide to the business.
Spam and unwanted messages have been reduced in this platform after the integration of blockchain technology.
Customers get rewarded with the cryptocurrencies which are of great value to them.
Customers have full control over the data which they share with the companies.
Cons of Momentum
How the company will integrate the blockchain to their existing clients ERP system is now completely clear.
The project doesn't seem to be creative. The function that how the reward system will work is also not clear.
Final Words
Using Momentum from a business perspective will allow companies to get highly detailed customer data without burning through their marketing budget. This is done by actually interacting with customers who receive value out of marketing incentives. Thus companies and customers both get benefited from this. This platform allows the customer to complete different tasks on a single platform. Therefore, we can say that Momentum is surely a platform that matches up to the current marketing changes which the business currently demands. With the help of this platform business industries can market their product and services along with maintaining a strong customer relationship and loyalty. This is certainly a positive change in the marketing platform.
I am Pawan Kashyap currently living in Amritsar. I always try to grab new things from the cryptocurrency market. From my observations and trends in the market, I always try to provide the best and accurate information in the form of articles from this blog. Follow us on Facebook, Instagram, and Twitter to join us.